YUAN XIKUN ~ ABRAHAM LINCOLN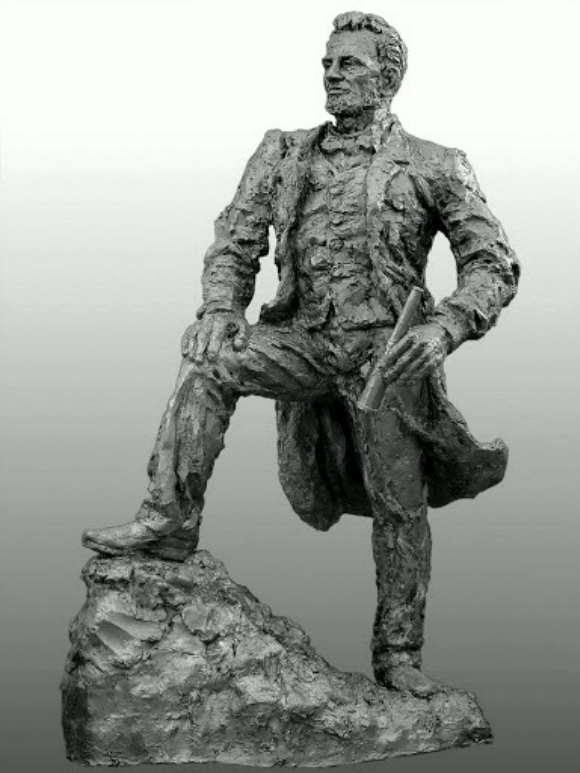 Before the Decisive Battle – Abraham Lincoln
Yuan Xikun
(2005 - 2006)
Fiberglass on Steel Armature
100 inches (254 cm)
Provenance:
Beijing Jin Tai Art Museum
Art Museum of the Americas
City of Philadelphia
Price Available on Request
Viewing by Appointment
This beautiful monumental sculpture depicts Abraham Lincoln posed boldly posing before the Battle of Gettysburg, spyglass in hand. This unique Chinese conception of the great American president revels in his historical legacy and offers insight into the Eastern idea of Western figures. Magnificently sculpted in fiberglass and towering at an imposing 100 inches in height, this piece is a magnificent example of Yuan's skill.
YUAN XIKUN
_
Yuan Xikun is the Member of the Standing Committee of the All-China Youth Federation, Member of the 11th Standing Committee of Chinese People's Political Consultative Conference (CPPCC). Currently he holds the following positions: the Curator of Beijing Jin Tai Art Museum, Honorary Chairman of China Association of Collectors, Researcher of the Graduate School of the Chinese Arts Research Institute and Honorary Member of the Russian Academy of Arts, Recipient of the National Labor Medal of May Day.
Yuan was born in Yunnan Province, China in August 1944 with Guizhou as his family origin. He has been collecting precious relics from overseas and established Beijing Jin Tai Art Museum in1995, the first privately-owned museum where over 100 international cultural exchange activities are held and praised by the Ministry of Foreign Affairs and Ministry of Culture. Yuan was invited to draw ink-and-wash portraits for 152 foreign dignitaries, which were acknowledged and signed by these foreign dignitaries. Among them, there were 49 replied to support Beijing's bid to holding the 29th Olympic Games on the eve of the Olympic bidding conference. As the Director of organizing committee, Yuan initiated 2008 Olympic Landscape Sculpture Designs Contest hosted by Olympic organizing committee. Mr. Yuan can express rich images with concise technique of drawing and artistic conception in western paintings which is called "Oriental Oil Paintings" for his peculiar ethnic style by western professionals; He is considered as the leader both as an artist and a public diplomat by international art authority who published his animal-themed portfolio of paintings and works of similar technique.
In recent years, his sculptures of international celebrities have been collected and inaugurated by foreign governments, international organizations and museums in Japan, Greece, Russia, the United States, Poland, Slovakia, Italy, Bulgaria, Kenya, etc. Ten celebrity sculptures including
Jianzhen, Aristotle, Tchaikovsky, Milan Stefanik, Before the Decisive Battle-Lincoln, Lula, Magellan, Confucious, The Greatest Poet Shevchenko
and
Montesquieu
; and three animal sculptures including
Oriental Fine Horse
,
Heaven Bull
and
Spirited
were presented as national gifts to different heads of states. The miniature version of the environmental sculptures
Urgency in the Polar Region
and
Patron Saint of Forest – Tiger
by Yuan were selected as the "Champion of the Earth" award trophies by the United Nations Environment Programme in the year of 2009 and 2010 respectively. During the Shanghai World Exposition, Yuan was first awarded as the "Patron for the Arts and Environment" by UNEP in recognition of his social responsibility as an artist and contribution on disseminating environmental protection concept. Yuan initiated "Champion of the Water Alliance" on the Earth Day of 2011 as a global call for public participation in saving water specially reduce the waste on bottled water and car-washing, which was warmly received by the international environmental organizations and all walks of the society. Yuan also actively took part into the Ozone Action that advocated by UN and created the sculpture
Sky-patching: Chinese Goddess Nüwa
, using the artistic approach to influence people on environmental protection. He got the compliments and substantial support from the UNEP and other international organizations. By the end of 2011, Yuan was awarded as the "2011 National Water Protection Public Figure".
Yuan has earned international recognition and has won the highest medals in the field of sculpture in China, such as the highest honorable medals from foreign presidents. He is a leading figure who has taken abroad Chinese culture in the field of fine arts and has made great contribution to Chinese art to the global stage.
---
---
Mehdi Hosseini Ashlaghi

Karaj - Long Shot Series

This collection of paintings is the fantastic work of noted Iranian painter Mehdi Ashlaghi. Large in both scale and subject and delicately painted with incredibly fine detail and sumptuously textured surfaces, these pieces are truly a wonder to behold.
"This collection is the result of my wonderings in the place and time that I am born in. It is more than thirty odd years that every corner of this city is rooted in my memories but I still lose my way. The city that I have grown up in, that we have grown up together, without guiding signs and no one to show the way. A geographical point, between Caspian Sea and the Capital, A passageway that has absorbed millions of people, where the inhabitants remain migrants and everyone belongs to another place. "Karaj, Long Shot" is the title of a series that despite first impressions is not a Non-place, each image in fact is a reflection of an exact place and time, where day has turned to night and night to day. And ultimately it's not a painterly visualization of a lived experience in a city, but it is a review of the reality in a city that seems to be centuries old. The series is a test between choices and reflections of ugliness and beauty, right and wrong, as well as a choice between things that one can not chose among. A visualization of the battle between day and night; the illusion of rightfulness of one and decay of the other one. The Image of a terra nullius, a place between hallucination and reality, that one has probably witnessed at time of birth. And it appears that till the end we may never fully trust the light nor fear the darkness as much as we ought to. The result is eight paintings, half day and half night, that continue in to each other. Perhaps a not so definite answer to the eternal question: that as far as time immemorial, light is born from darkness and dawn from dusk. And it's only color that will give them both meaning and life."

Mehdi Hosseini Ashlaghi

- M.A. in Painting & Illustration, University of Art, Tehran, Iran, 2006.
-Member of Institute for Promotion of Visual Arts in Iran.
- Established "Tehran Painters group" with Amirhossein Bayani and Sahar Khairkhah in 2003 and held three exhibitions of Painting with different themes with some guest artists.
- Solo exhibition, Painting, Aaran Art Gallery, Titled "Karaj, Long Shot", Tehran, Iran, 2014.
- Solo exhibition, Drawing, Golestan Art Gallery, Titled "Sight of a Presence", Tehran, Iran, 2006.
- More than 25 group Exhibitions of Painting and Drawing in different Art Galleries in Tehran, Iran,1994 - 2013.
- Worked with Aaran Art Gallery since 2009 as a freelance painter.
- Teaching and Instructing Fine Art at High schools, Colleges, and the Universities of Fine Arts as a part time Instructor and Guest Professor for about 15 years
- Group Exhibition of Painting, Cultural Week of Iran, Sudan, Africa, 2009.
- Group Exhibition of Drawing, Asian Contemporary Artists, Mauritius, Africa, 2008.
---
Gunther Gerzso
1915-2000 MEXICO LEGENDARY ABSTRACT OIL PAINTING SIGNED + DATED 1971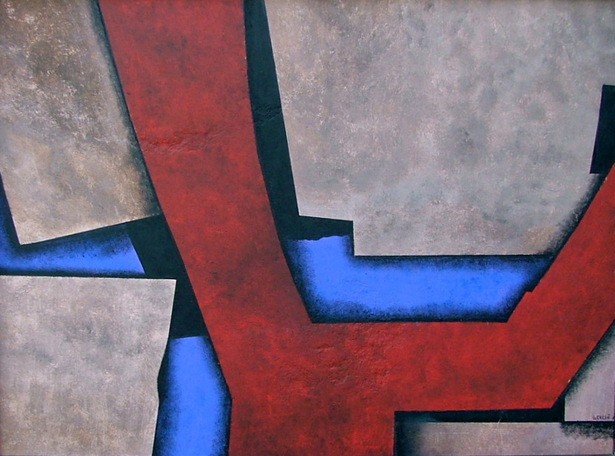 Unititled
Gunther Gerzso
(1971)
Oil on Masonite
15 x 20 Inches
16 x 21 Inches Framed
Price Available upon Request
Viewing by Appointment
For purchasing information, please contact
info@alphabetcityart.com
This gorgeous abstract painting by early 20th century master Gunther Gerzso is painted in a beautiful modern style with vivid color and fantastic composition. Stunning in its contrast of hard forms and soft texture, this piece explores the materiality of paint and the history of images. Featuring bold color, intense blacks and strong geometric design, this piece is an amazing addition to any modern collection. Signed lower right dated 1971 with frame.
Gunther Gerzso was born on June 17, 1915 in Mexico City. Gerzso's Hungarian-born father, Oscar, had migrated to Mexico in the early 1890's along with his wife who was a singer and pianist. In 1927, Gerzso was sent to Switzerland to live with his Uncle, an art collector, dealer and art historian. This would be the only formal artistic education that he would receive.
While living at his Uncle's estate, he met Italian stage designer Nando Tamberlani, who encouraged Gerzso to become a set designer. His stay in Switzerland ended when his Uncle was forced to sell his estate during the Great Depression. Subsequently, Gunther returned to Mexico to complete his schooling.
In 1934, Gerzso was introduced to another thespian, Fernando Wagner, an actor, producer, and director who worked on productions by authors such as Moliere and Lope de Vega. Wagner was supportive of Gunther's talent and used his set designs for these productions. During the same year, Gerzso became acquainted with Arch Lauterer, a former set designer for the Cleveland Playhouse and professor of Drama at Bennington College, Vermont. Lauterer recognized Gunther's budding talent and recommended he study at the Cleveland Playhouse.
The following year, Gunther moved to Cleveland and began as the Playhouse's set and costume designer. He completed designs for more than 50 plays and it was there that he met two people that would impact his career. The first, was his wife Gene Rilla Cady who was his muse, his support and his lifelong partner. Gene was an actress at the Playhouse and appeared in many productions. Gerzso used Gene as a model for several of his early figure studies. The second was actor/director Thomas Ireland. Thomas greatly admired young Gunther's talent and encouraged him to continue to explore and expand his artistic vision. Thomas Ireland saved and protected over 350 drawings, paintings, watercolors, set and costume designs made by Gunther throughout his 5 years at the playhouse. Today this collection is known as the Colonel Thomas Ireland Collection. He acknowledged of his friend Thomas as "My first collector".
Gerzso also was encouraged by his friend Bernard Pfriem, an art student in Cleveland, who gave him his first set of oil paints and advised him to dedicate himself full-time, to painting.
While he was unable to do this, Gerzso made excellent use of the gift by painting as often as possible while he designed for the Cleveland Playhouse. During the summers between the Playhouse's season, Gunther painted in Mexico and continued to develop his style.
Gerzso left Cleveland in 1941 and returned to Mexico City to become a "full-time" artist. He was introduced to Surrealist artists including Remedios Varo, Leonara Carrington, and Roberto Matta who were all living and working there at the time. They all shared admiration for the Paris Surrealist School of Painting and they frequented each others' studios, gathering and sharing their ideas and works.
Because of lack of support, Gerzso had to return to set design and he designed sets for Mexican, French and American Film companies, completing over 250 films.
It wasn't until 1962 that he was able to retire from the film industry and finally devote himself to full-time painting.
Gerzso's vision was incredibly distinct from other Latin American artists. His European heritage mixed with his love and devotion to Mexico, the country he called home, set him apart from his contemporaries.
Gerzso lived in Mexico City until his death on April 20, 2000. Survived by his wife Gene, two sons Michael and Andrew and a legacy of work that offered an independent interpretation of Mexico while creating an entirely new aesthetic vision for each generation to discover.
---
---