Art Dealer Battles It Out With Government Over Restored Painting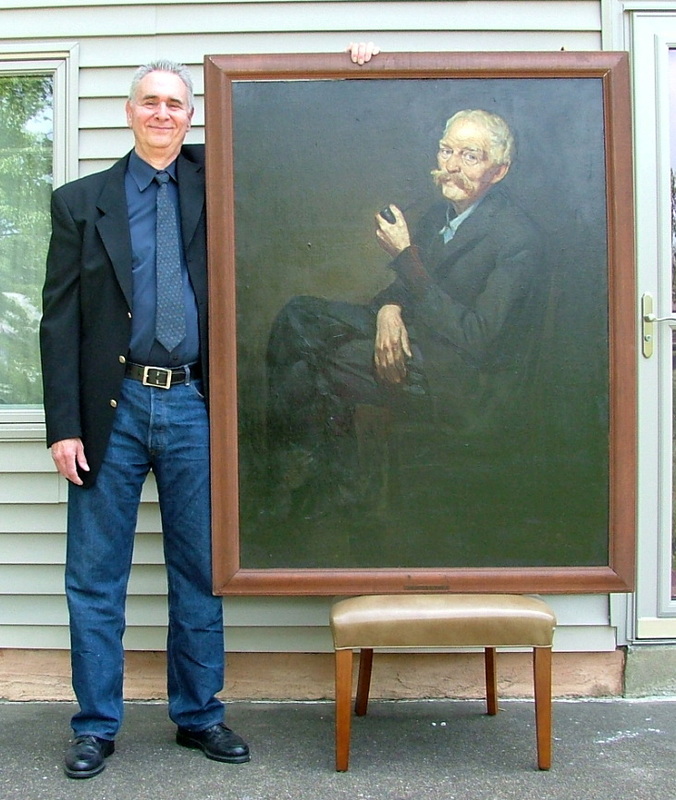 PHILADELPHIA (CBS)
– A South Jersey art dealer is in a battle with the US Government over a painting he restored after it was discarded over 25 years ago.
Matthew Schwartz said the General
Services
Administration is demanding he return '1934 Farmer' by John Slavin despite the time and effort he put into repairing a work of art that was so mutilated that it was thrown away by the Chrysler Museum of Art in Virginia in 1990.
Schwartz told
Rich
Zeoli on Talk Radio 1210 WPHT that fixing the damage was painstaking ordeal.
"I spent thousands of dollars restoring it…The process is you patch the painting back together. This is an extremely large painting. In paint where paint is missing. In paint over where the damage was and then completely clean the painting…This was an exceptionally big project."
He claims the Federal Government is now demanding he hand over Slavin's piece, despite his assertion that it was trash before his restoration project.
"I received a call from a special
agent
in Manhattan requesting the painting back. His technique was extremely galling, just demanding the painting back because it was a (Works Progress Administration) painting. I went back and forth with the investigator. He must've called 50 times, visited the house with other people flashing badges, maybe four or five times. I told them, flat out, they could not have the painting. The painting was a piece of junk, discarded by the US Government and I'm the one that added the value to that painting. If it wasn't for my work, they wouldn't want the painting and the painting would not exist."
Via
Rich Zeoli, CBS Philadelphia
---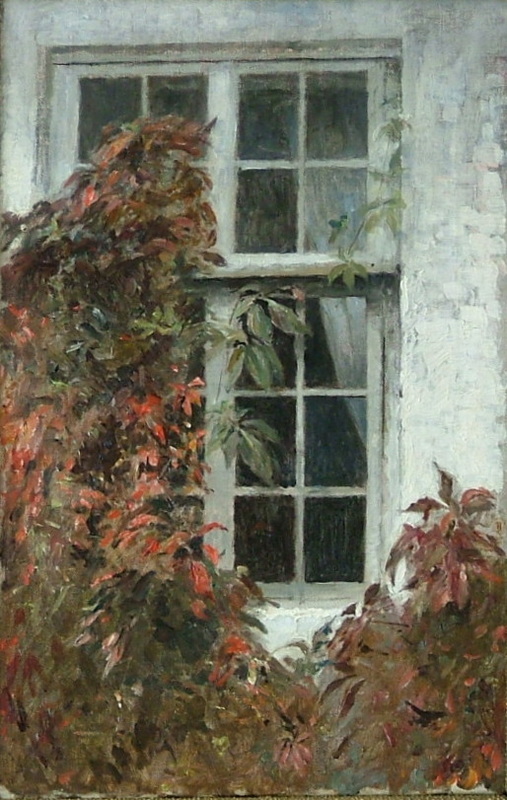 ---
Peter Ilsted
VIRGINIA CREEPER AROUND A WINDOW AT LISELUND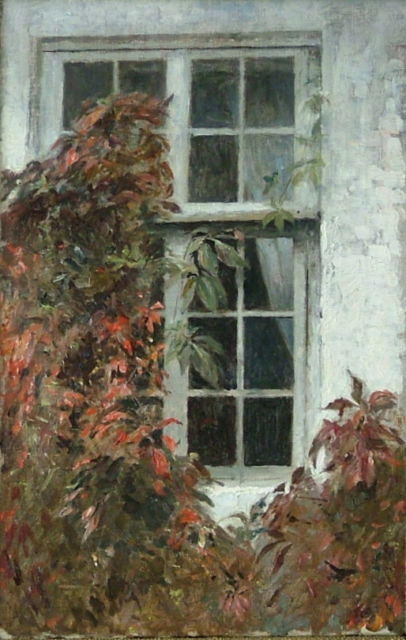 VIRGINIA CREEPER AROUND A WINDOW AT LISELUND
Peter Vilhelm Ilsted
Oil on canvas
18 1/2 x 12 Inches
Monogram center
Price Available upon Request
Viewing by Appointment
For purchasing information, please contact
info@alphabetcityart.com
This beautiful painting depicts a Virginia creeper climbing outside a the window of a house in the famous Liselund park on the Danish isle of Mon. Fatnastically painted with delicate brushwork and naturalistic color, this piece is a testament to Ilsted's skill. Featuring rich texture and dynamic composition, this piece is ideal for any collection of European painting. Monogram center with custom frame.
Peter Ilsted
(14 February 1861,
Sakskøbing
– 16 April 1933,
Copenhagen
) was a leading Danish artist and
printmaker
. Ilsted,
Carl Holsoe
and Ilsted's brother-in-law,
Vilhelm Hammershøi
, were the leading artists in early 20th century Denmark. All three artists were members of 'The Free Exhibition', a progressive art society created around 1890. They are famous for painting images of "Sunshine and Silent Rooms", all in subtle colors. Their works reflects the orderliness of a tranquil life –- similar to the earlier works of
Vermeer
. Their art was later referred to as the 'Copenhagen Interior School'. These interiors evoke at once a sense of calm, as well as a sense of mystery. The orderly rooms are often viewed from behind—causing one to wonder if the scenes are really tranquil or something else.
James McNeill Whistler
,
Duret
and important art critics were early admirers and collectors of Ilsted's work.
Ilsted was Hammershøi's brother-in-law. While at first glance their work appears similar, it is in fact quite different. Hammershøi's work has an aloof austerity, in contrast to Ilsted's scenes of common life. Though sometimes Hammershøi's colorful early pictures are reminiscent of
James Tissot
, his work is quintessentially Danish. However, Ilsted was more of a technician, and he made considerable contributions in the field of graphic art. Ilsted's mezzotints (colored à la poupeé) were very popular and important in his day. They were an innovation in the media. Ilsted exhibited his work all over Europe, in London in 1907, in Germany and at the
Paris Salon
. It is there that his work was first exposed to Europe's art community.
Ilsted was a great success in his lifetime and won many awards and accolades for his work. He was the only member of the group to also focus on printmaking. Ilsted's achievements in mezzotints were revolutionary. Some of his
mezzotints
, most of which were created in black as well as color editions, are considered among the greatest ever made. His greatest contribution which
T.F. Simon
,
Manuel Robbe
, and others seemingly adopted was that of inking the plate
à la poupeé
. Some art historians have argued that these 3 men created the technique at about the same time but without consultation. This belief is not certain.
The
Metropolitan Museum of Art
(New York) held an important exhibition on the work of Ilsted, Hammershøi, and Vermeer in 2001.
---
---
John Slavin
Sitting Man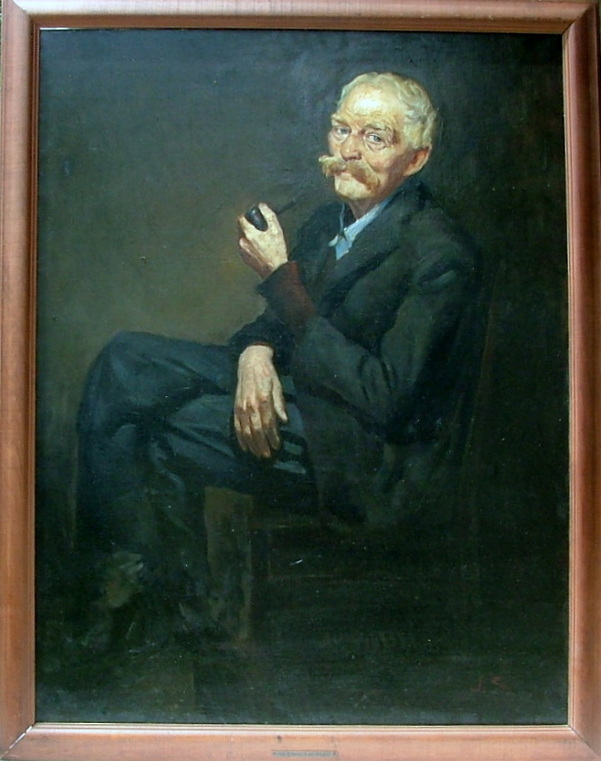 SITTING MAN
John Slavin
(1934)
Oil on Canvas
52 x 40 Inches
57 x 45 Inches Framed
Price Available upon Request
Viewing by Appointment
This fantastic portrait by American painter John Slavin depicts a man relaxing with his pipe. Painted in a realist style reminiscent of Thomas Eakins, this piece is beautifully rendered in a classical academic style. Life-size and with stunning detail, this is a magnificent example of social realist painting of the early 20th century. Signed lower right and complete with custom frame.
Slavin's paintings have been exhibited at the National Gallery of Art, the Corcoran Gallery in Washington, the Pennsylvania Academy of Fine Arts, the Cleveland Museum and the Royal Academy in London.
---
---
Store